Clifford Township, Susquehanna County
COMPLETED: 2020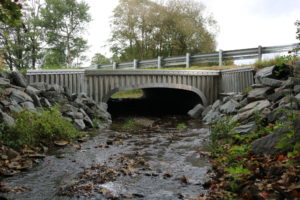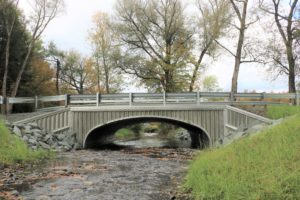 Bassett Engineering designed, bid, and supervised construction of the replacement of two bridges for Clifford Township in Susquehanna County. After evaluating several alternatives aluminum box culverts were chosen as the replacement structures for both sites, outfitted with aluminum structural plate wingwalls, full invert plates, and fish baffles to maintain a natural streambed. BE was able to save the Township time and money by bundling the bridge replacements under one contract and by prepurchasing the structures through Costars. Both culverts were fully assembled on site prior to road closure, minimizing the duration of the road closure and detour.
On Tinkerbrook Road, we replaced an existing steel beam bridge with a single 6'-6" H x 22' 1" W x 27' 0" L aluminum box culvert. Welch Hill Road involved replacing an existing 6' round steel pipe culvert set inside a rigid frame concrete bridge with a 5' 8" H x 15' 1" W x 72' 6" L aluminum box culvert.
Clifford Township prepurchased both aluminum box culverts including aluminum wing walls for both culverts. Cooperation of local landowners enabled the team to fully assemble the culverts outside of the roadway, allowing the road to remain open until the day before culvert setting at both sites. riprap was placed at all four wingwalls on each culvert to provide scour protection. Guiderail were installed on sleeper slabs over the culverts per PennDOT standards, where the Township was able to save money by utilizing used guiderail.
The project was constructed by Barhite Excavating of Clifford, PA.