Lewis Township, Lycoming County
COMPLETED: 2018
In 2017 and 2018, Bassett Engineering surveyed, designed, and supervised construction of the replacement of the Upper Bodines Road Bridge. This bridge is located on Upper Bodines Road (T-857) where it crosses Pleasant Stream in Lewis & McIntyre Township, Lycoming County, PA. The project replaced a 44' single span stone arch bridge with a new 66' single span x 19' rise precast concrete arch with associated roadway improvements and stream channel restoration. The new bridge has no skew to the stream. The south approach roadway was realigned to remove the existing sharp curve onto and off the old bridge. The project was proposed by the Township after flooding in October 2016 destroyed the existing stone arch. The new bridge is a Conspan BEBO precast structure with a 50% longer span and 50% larger waterway opening than the previous structure. Pleasant Stream is a trout stocked High Quality Cold Water Fishery.
The bridge replacement was fully funded by FEMA. Bassett Engineering coordinated with FEMA in order to receive funding for a larger structure than the existing as was needed based on hydraulic analysis.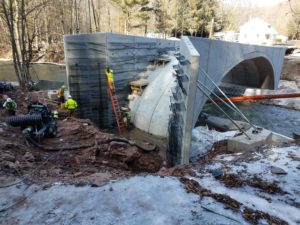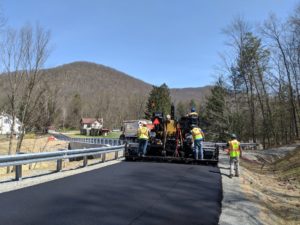 The arch was prepurchased directly from Conspan in a separate contract with the goal of expediting the construction schedule.
The bridge provides a direct connection between Marsh Hill and Bodines as well as access to Pleasant Stream Road in nearby McIntyre Township.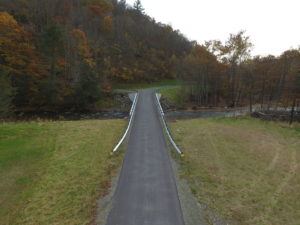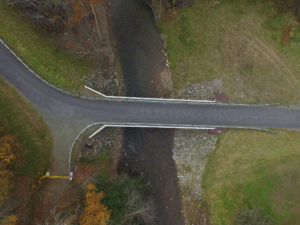 Bassett Engineering also obtained permits, coordinated bidding, and provided construction phase engineering including inspection for the project.
The project was constructed by Rylind Construction Company and Glenn O. Hawbaker.